Video projectors are a commodity item nowadays, with widespread use for business, education and many other applications. We supply a full range of projectors and accessories to provide excellent solutions for all common requirements. In addition we can supply ultra short throw projectors, LED and laser projectors and customised projection screens. We also supply very high output projectors, 3D projection solutions and very large specialist projection screens for venues with access problems.
We can provide video projectors, screens and video processing electronics for classrooms, meeting rooms, board rooms and training rooms and churches. We can provide any other solution requiring high quality video projection.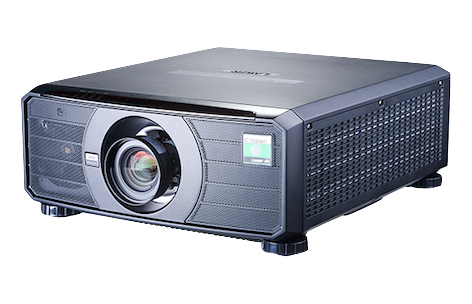 Laser and LED video projectors
These new technologies offer greatly extended lamp life and longer distance brightness compared to conventional video projectors. As a result you benefit from lower cost of ownership due to reduced maintenance costs, and users benefit from an image that stays brighter for longer.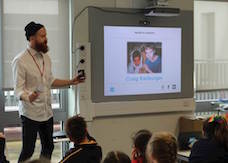 Ultra short throw video projectors
Very popular in meeting rooms and classrooms, the projector is mounted on a short arm immediately above the projection screen. This reduces the installation cost because of the reduced amount of cabling required. Also the appearance of the room is improved due to the reduced amount of visible cabling and containment.
Laser and LED ultra short throw projectors are now available for longer lamp life, lower lifetime costs and more constant brightness. See below for details of Supernova screens for ultra short throw projection in difficult environments with high ambient light.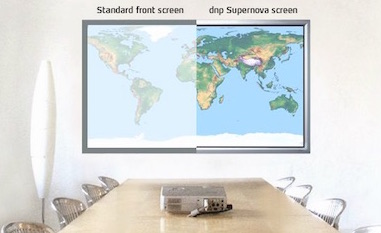 Special screens for rooms with high ambient light
Too much ambient light falling on a projection screen will "wash out" the image, resulting in a poor image quality. To deal with this situation we can offer Supernova projection screens. These reject the ambient light whilst reflecting the light from the projector. The result is a huge improvement in image quality. As a result we can provide a good image quality in rooms that would otherwise be impossible to project in. In fact, in almost every situation they will provide a greatly improved image.
Click here to see the Supernova screen difference (flash animation).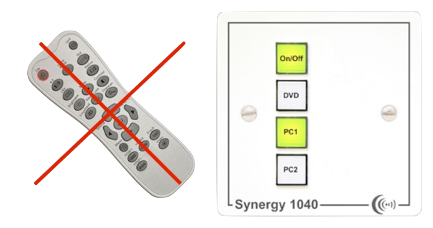 Simplified projector control
Users often experience frustration with projection systems when remote controls go missing at crucial times, or the batteries go flat. A very elegant solution to this is a hard-wired button panel that turns the projector on and off and selects the inputs. It is fixed to the wall, and as a result can't go missing, and is 100% reliable with no batteries to go flat. Operation is obvious, the buttons are clearly labelled, and users will no longer be confused by over-complex remote controls that they don't understand. These panels are customised to your specific requirements, so you can choose which buttons are provided and how they are labelled.
We can also provide similar button panels to control other AV equipment. And for more complex installations we can provide a fully customised intelligent control system using a touchscreen or an iPad. This is especially useful for lecture rooms and board rooms. More information here.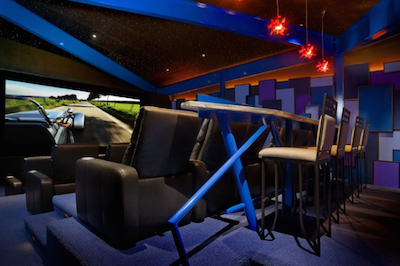 Professional 3D video projection
We can supply high quality 3D projection solutions for professional applications such as architecture, engineering, design and simulation. The latest technology provides a high resolution, immersive experience.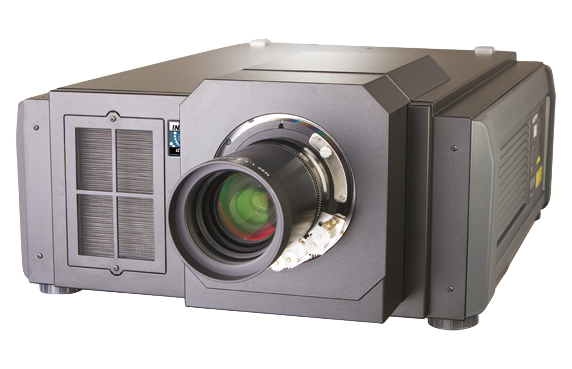 High power video projectors
We provide high power video projectors using the latest technology from leading brands such as Christie, Digital Projection and Panasonic. These can provide excellent video projection solutions in larger venues such as theatres, halls, cinemas and large lecture rooms. Leading edge technologies such as 4K are available, in addition to the projectors we can provide everything for the installation including projector mounting solutions, projection screens, video cabling, video processing, intelligent control systems and sound systems.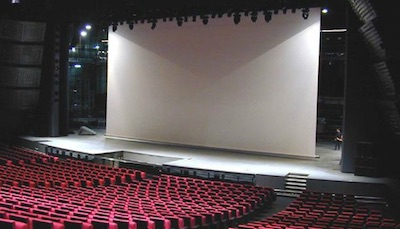 Large projection screens
We can supply all sizes of projection screens in a huge range of styles, including electric or manual rollers, front or rear projection, fixed frame, high gain or high contrast surfaces
For very large sizes there can often be practical problems in delivering the screen to the venue if the shipping crate is too large to handle on site. We can offer a novel solution for this situation where the screen roller is modular, allowing it to be shipped in smaller sections and assembled on site. This allows us to provide large screens in venues where it would otherwise be simply impossible to handle a conventional screen design.
Also check: