Video equipment is now universal in board rooms, meeting rooms and lecture rooms, and we all benefit from the ability to display and share high quality media images. Sometimes, however, these facilities are not as user-friendly as we would like and users may struggle with controls that they don't understand, connections that don't match their laptop, and equipment that works with one laptop and not another. Future Media can offer you meeting room AV solutions designed to solve all these issues, borne out of experience and a rigorously engineered approach to design.
Customised AV Control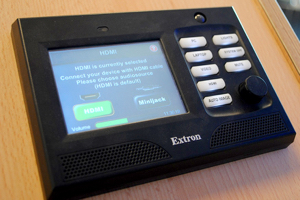 AV equipment can often be complex and users can be confused by the complex controls and may sometimes make the system unusable by changing something that they shouldn't. Our approach is to ease the complexity for the user by hiding the equipment behind a locked door and / or disabling the controls. The user now controls the AV equipment via touchscreen, and the controls on the touchscreen are custom-designed by us for your specific situation. Thus the user only sees exactly the controls they need and no more. This approach greatly reduces the amount of technician support required, as operation of the touchscreen is intuitive and the user can't get to any controls that they shouldn't.
An iPad can be used as well as, or instead of, the touchscreen for situations where mobile control is required.
We can control a full range of AV equipment, sound equipment, room and stage lighting, HVAC - pretty much anything can be controlled by our systems.
These AV control systems are fully customised so that the functions they perform will be defined specifically for your situation. For example, in a board room, a single button on the touchscreen could dim the lights, close the curtains, turn on the projector and drop the projection screen. The system is fully flexible and the possibilities are endless.
Multiple pages of control are possible. For example these could present different controls for different types of presentation, or provide a greater level of control for technical staff.
Examples of systems that we have provided are:
Board rooms with easy, integrated control of AV equipment and videoconferencing
Meeting rooms where the control of the AV equipment must be intuitive and reliable, to minimise the requirement for technician attendance
Lecture rooms where a large amount of AV equipment needs simple control from an iPad
Churches where the sound equipment is required to have a number of complex features, but a very simple control interface was required for operation by non technical users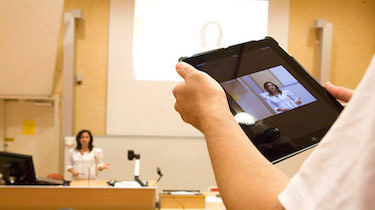 AV Streaming
Automated recording of meeting audio and video, with automatic upload to a remote file server.
Streaming of meeting audio and video to make the meeting automatically available on the internet. This can operate automatically on a timetabled basis making it ideal for higher education lecture theatres, for example.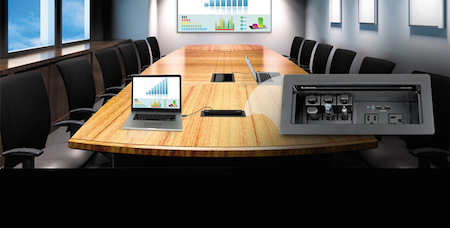 Architectural Solutions
Elegantly designed architectural solutions, to integrate AV connections into your meeting room furniture to reduce the amount of cabling and clutter.